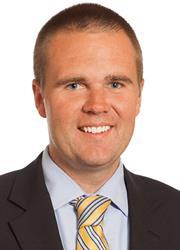 Mark Hengel
Credit Officer
Bell Bank

Mark Hengel is a Credit Officer at Bell Bank. Mark has been in Commercial Credit for 10 years.
Mark has been involved in RMA since 2007, and has been in various roles beginning on the Young Professional's Committee, and then as YP Chair. He was elected to as Director of the Board in 2012 and served as President during the 2014/2015 term.  He currently serves on the Programming committee.

Mark has a finance degree from St Cloud State University. In his free time, Mark enjoys golfing, reading, and spending time with his wife and friends.